---
---
Email: [email protected]
Hello everyone, my name is Adam Smith. I wasn't born a Beacher, but I sure am gonna die a Beacher.
I love this area, and no matter where in the city my job in film and television moved to, I have never been willing to leave this neighbourhood. I'm raising my son here whom I co-parent, and he just finished his first year at Norway Public School.
Our spectacular parks, our blue flag beach, our numerous ravine trails, and of course, the small town vibe while living in the middle of the big city are just a few of the great aspects of living here. Our ward is one of the few areas in the city where you can smile and nod at a stranger, and have it returned.
For the record, I am staunchly non-partisan. I am not a member of any political party, so my allegiance is strictly to residents.
I do not qualify myself or my platform with any particular ideology, I prefer to let evidence and history guide my vision for a better life, that raises living standards for all while being 100% sustainable.
I have been deeply involved in community issues for many years now, having already worked with city staff on numerous initiatives—I didn't just step up when I ran for election.
Below is a comprehensive account of all the various local initiatives I've been a part of:
Beach Community Edible Garden
The Edible Garden branched from Friends of the Beach Parks, for whom I lit many a fire in the winter down in front of the Kew rink.
I was one of the architects of the Beach Community Edible Garden and am now its sole administrator, growing food for the Glen Rhodes Food Bank (now called Nourish East End).
Anyone walking through Ashbridges Bay Park may have seen me doing my Sunday watering there.
I've been with the Edible Garden since it was built in 2016. I've even made a video of the construction, which doubles as a how-to video on building "wicking beds".
Watch the video – Building a Wicking Bed for the Edible Garden
Meals on Wheels
Until circumstances changed my availability, my favourite volunteer activity from 2015 until 2021 has been delivering Meals on Wheels every Sunday and Christmas morning in the north end of East York (True Davidson).
There is nothing more fulfilling than seeing the smiles of our clients as I bring them a hot meal. Other than personal service workers, I may be the only person they see that day. I witness the harsh reality of seniors living in poverty every week, and we can definitely do better.
Greater Beach Neighbourhood Association
As a board member of the Greater Beach Neighbourhood Association, an umbrella group of local residents associations, I fight for responsible development.
I testified at the flawed OMB hearing for the Shell Station site that now blocks the view our historical fire hall, violating the Urban Design Guidelines.
The Beach Village BIA
I spent 6 years (2010-2016) on the board of the Beach BIA, where I worked hard to counter the struggles of our ailing Queen St. businesses.
By the end of my tenure, I was chair of the streetscaping committee, and was personally responsible for bringing back our hanging baskets of flowers.
I also started the tree planter painting initiative (many of which are designed by me), and with help created the "What Do You Love About The Beach?" mural on the construction fence while the new ReMax building was being constructed.
I have also spearheaded many surveys of the public, and have worked almost all of our events.
I've even been Beach Buddy in both the Easter and Christmas parades.
My time with the BIA was both fulfilling and frustrating.
The former because I really enjoyed working in the community in a way that allowed me to to see the positive impacts. The latter because many of the forces negatively impacting the area are well beyond the BIA's control.
Ward 19 Transportation Committee
For 11 years, I have chaired the Ward 19 Transportation Committee, successfully lobbying the city for changes like new signage and ground markings to improve safety and awareness on the Martin Goodman Trail, doing multiple transit and traffic studies and reports around the ward, and written reports submitted to the city and council. I speak more in depth about my experience with transportation issues here >.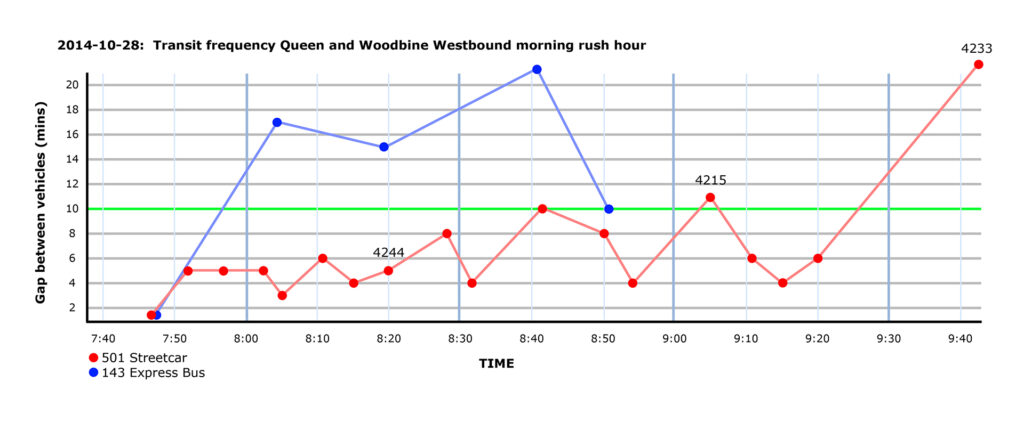 32 Spokes
I am a longtime member of 32 Spokes, our local cycling advocacy group and ally of Cycle TO.
We have been pushing for improvements to the poorly designed Woodbine cycle track, many have seen my report about it.
I have manned the 32 Spokes table at many farmer's markets as our other skilled members do free tune-ups and light repairs to any bicycle that needs it.
A particularly fulfilling event was doing repairs of children's bikes at the 100 in 1 Day event in Main Square.
Rain Gardens United
From 2018-2020 I was Treasurer on the board of Rain Gardens United, an initiative to trying to get rain gardens included in the city's wastewater management strategy.
I've led a few rain garden crawls (that's the back of my head in the photo), and have worked with the advisory board to get our non-profit incorporated. I also edited and animated the banner video on their website.
Friends of the Glen Stewart Ravine
Having lived at Beech and Kingston for years, I love the Glen Stewart Ravine at any time of the year.
As part of Friends of Glen Stewart Ravine, I help primarily with cleaning trash and fighting against dreaded invasive species.
I also gave out free trees to homeowners through the Tree for Me foundation (now defunct unfortunately), and made bee "hotel" kits for residents to put in their yards.
Grow Food not Lawns
This is a recent addition to my community work, an initiative to encourage more people to grow food on their property.
At the end of the season, the group shares their crops.
This was an idea that came from a Scandinavian neighbourhood where an aerial photo showed the entire neighbourhood—front and back lawns, packed with vegetable gardens.
As food security becomes a more important issue it is crucial that we find ways to source as much food locally as we can.
TTCRiders
I lobby for better transit as a former board member and ongoing volunteer with TTCriders, a very active and well-known transit lobby group.
Former executive director Jessica Bell is now an MPP.
I took part in many rallies and public information campaigns, and even did a series of videos for them.
Electoral Reform
I have volunteered with Fair Vote Canada to promote proportional representation for our federal and provincial elections, and support RaBIT and ranked ballots for our municipal elections.
After much studying, I discovered what I feel to be the ideal system for our federal and provincial elections and made a video to explain it.
Committee on Monetary and Economic Reform (COMER)
From 2014 to 2018 I was involved with the Committee on Monetary and Economic Reform, eventually becoming the secretary of their board.
COMER is an independent Canadian think tank, who started their work in earnest in the late 80s, and are still fighting for an equitable economic and monetary system. They are known for taking the Bank of Canada to court, an action I realize now was always a losing proposition, but none the less raised important questions the public needs to be asking about federal finance. I have a deep interest in banking and the monetary system, as money is central to the economy and to our lives.
Understanding Canada
Since 2015 I have run a non-partisan blog called Understanding Canada, critiquing the actions and policies of the federal government and its neoliberal ideology, with a focus on economics and the monetary system.
One of my biggest research articles was on our last inflationary period in the 70s and the actions the Bank of Canada and the government took then to combat inflation. I also have a recent piece detailing how the Bank of Canada created money to get Canada through the pandemic. I've done a few videos, like the video I did for the 2015 election, "Hardeau VS Truper", detailing the similarities in policies and votes of the Liberals and Conservatives.
---